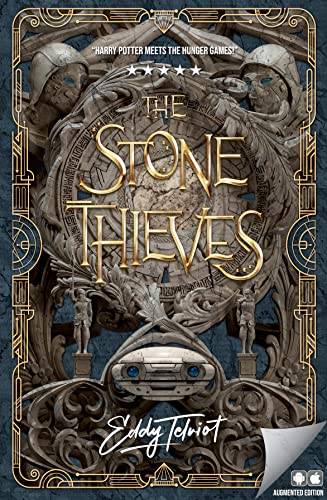 03/24/2023
The Augmented Edition of The Stone Thieves is a #1 Amazon bestseller.

With a new cover and a wonderful foreword by Academy Award Nominated Screenwriter, Terri Tatchell - this edition is packed full of amazing concept art commissioned by visionary Hollywood Director, Neill Blomkamp!

Escape into a world you never knew existed

There is a book which has shaped the course of history. For thousands of years, a secret society of inventors have guarded it. From the Greeks and Persians to mighty Hannibal and the formidable Caesars of Rome. Viking raiders. Crusaders. Even Genghis Khan and the Conquistadors sought it. Yet none have come close to finding it, until now...

Taking a seemingly innocent summer apprenticeship, fifteen-year-old Sam is drawn into the mysterious world of The Few. He and three new friends are chosen to be trained in forgotten arts by this ancient order of inventors, whose existence is shrouded in dark science, marvellous modifications and incredible creations. It's the beginning of an epic and relentless adventure that will blur the boundaries of their reality – full of action, gadgets and intrigue.

The stakes are high and The Few must adapt if they are to survive this new threat, for Ms Keller and Harbinger Robotics are poised for victory. They have learned of a scroll which will lead them to the book and, with it, change the world forever...